How to Watch the Presidential Debate with Us
We're streaming the debate. Here's how to get in on the party, and why you should subscribe for the full experience.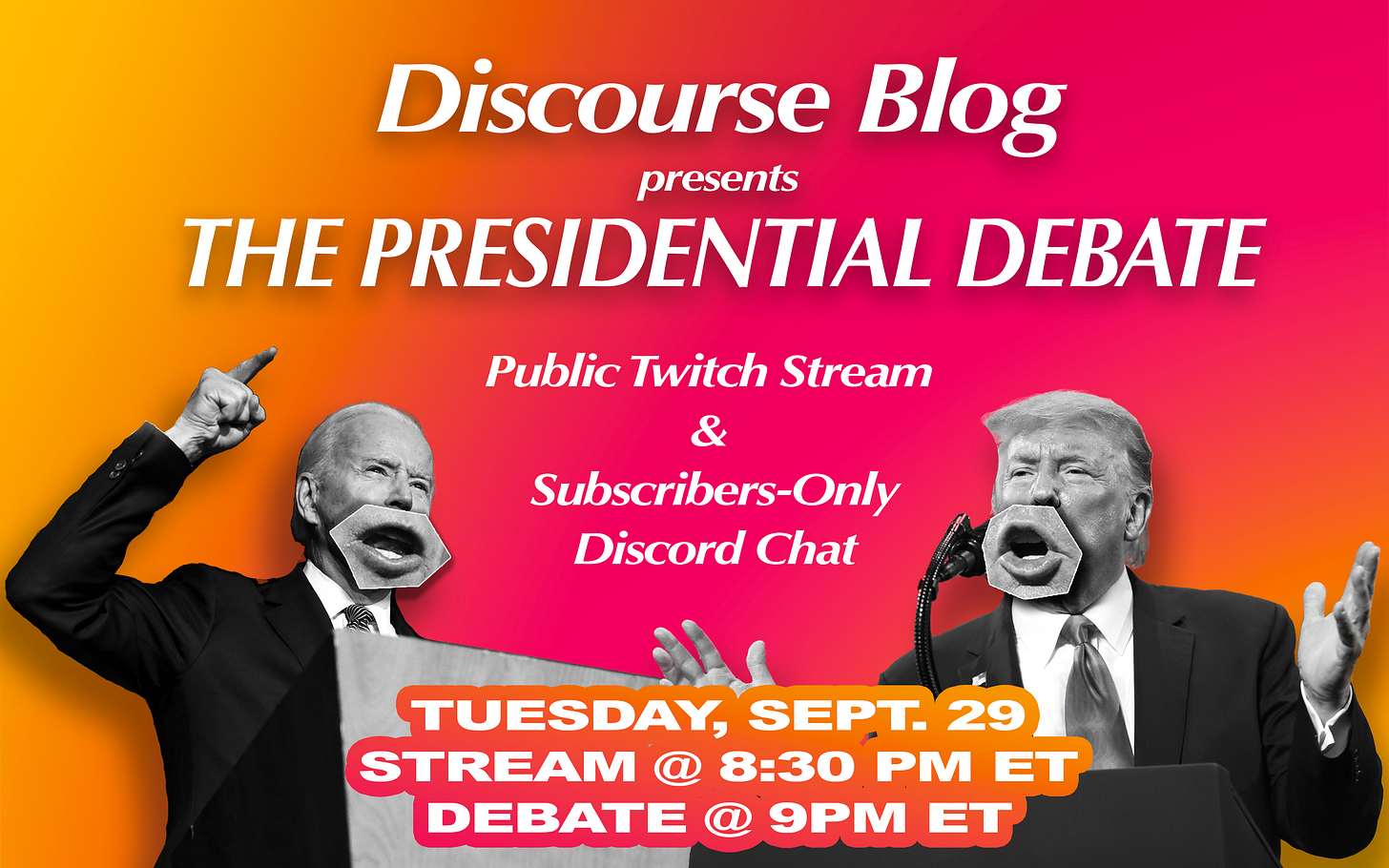 Hello and welcome to big debate Tuesday. Tonight, Joe Biden and Donald Trump face off in their first presidential debate.
As you know, we're putting on a public, live-streamed debate show on Twitch, an online livestreaming platform. We'll be starting at around 8:30 p.m. EST for a little pre-show and warmup before the debate starts at 9:00. The show itself will feature myself, Katherine Krueger, and Jack Mirkinson doing live talking-head commentary and/or just shouting over the debate when things get really bad. Look at us. We're the pundits now.
Here's the links.
Twitch is a very self-explanatory service. You should be able to watch the stream even without an account, just by clicking on our page. The Twitch stream will also be public, which means you're free to share it with whoever you like (and please do!).
You will notice, however, that we won't be interacting much with the public Twitch chat feed on the side of the website. Instead, the broadcast itself will have a running bar of a private, subscribers-only Discord chat room where Discourse Blog staffers will be live-blogging the debate and chatting with our paying subscribers. The only way to join this chat is to become a paid subscriber to Discourse Blog. You can watch this fun play out during the show, or you can subscribe and immediately get a link to join the Discord and instructions on how to do so. Look out for the link in the "Welcome to Discourse Blog" email you'll get after you sign up, or click here to go directly to our subscriber-only post with all the instructions.
This is also where I mention that right now is an excellent time to subscribe if you're on the fence. Subscribers who carry over from Substack to our new website (!!) after we relaunch next month will get some additional bonuses and benefits, so this is the perfect moment to get in early and maybe, perhaps, have a good time watching the debate.
One more time for the people in the back: We'll be at Twitch.tv/discourseblog all night long if you want to join.
Image: Samantha Grasso