Watch the Vice Presidential Debate With Us
And subscribe for even more fun! Here's all the details.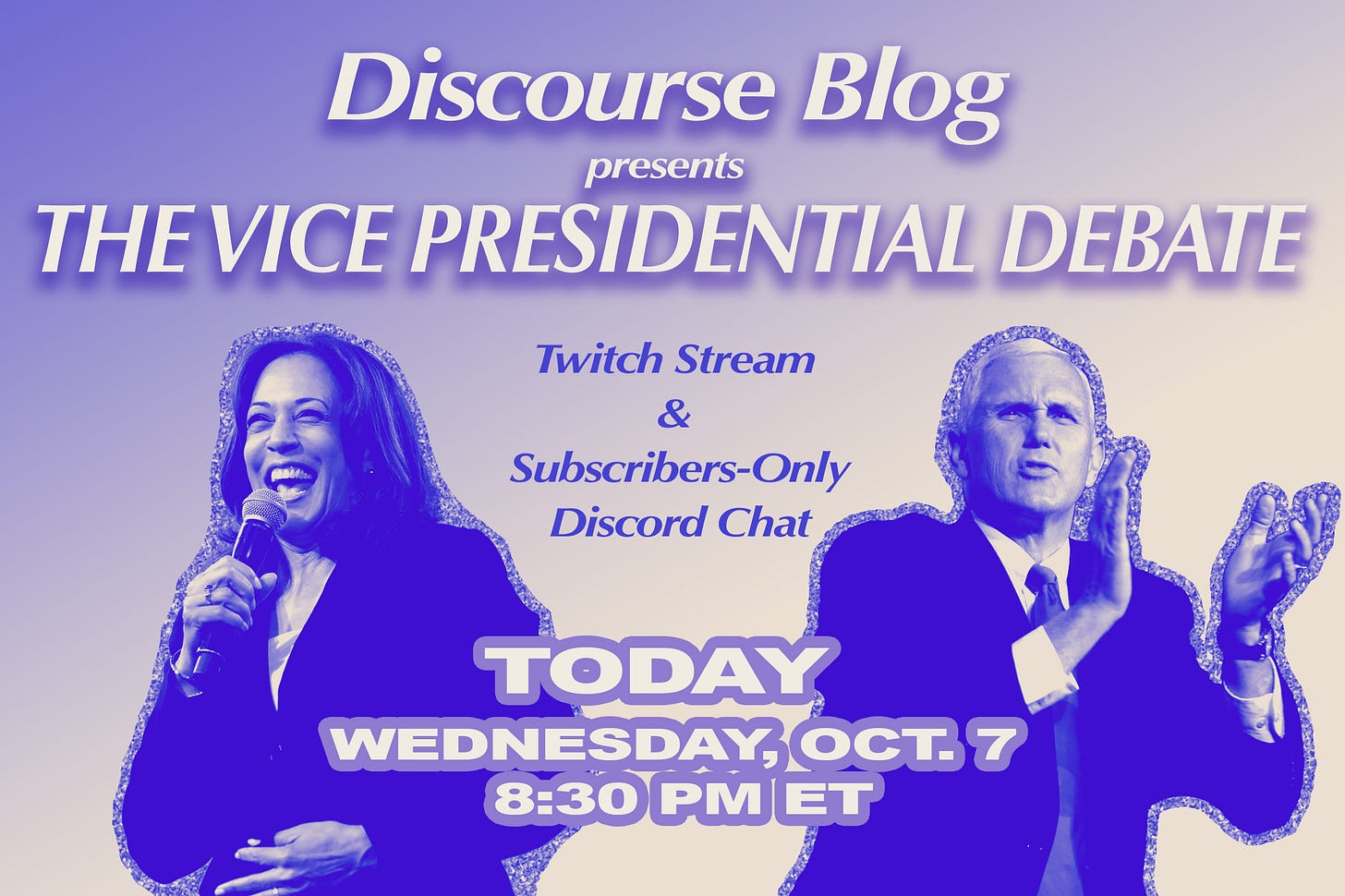 Last week (yes, it was only last week!), we did a live Twitch stream and Discord chat for the first presidential debate. The experience was so mania-inducing and surreal that we had no choice but to do it again.
That's right: we're having another Twitch stream and Discord chat for tonight's "adventures with plexiglass"-themed vice presidential debate between Mike Pence and Kamala Harris. A reminder: only our paid subscribers can join the Discord chat.
It all starts at 8:30 p.m. ET, when we'll kick off with some pre-show "conversation" before the main event at 9 p.m. ET. Events have somehow become even more brain-pulverizing since Donald Trump and Joe Biden met, so the VP debate is sure to keep the trend going.
Here's how to watch:
Here is our Twitch TV page, where the show will be livestreamed. Note: you don't need to sign up for Twitch to watch the livestream. It will just start playing if you click this link: https://www.twitch.tv/discourseblog
The broadcast itself will have a running bar of a private, subscribers-only Discord chat room where Discourse Blog staffers will be live-blogging the debate and chatting with our paying subscribers. You can subscribe and immediately get a link to join the Discord and instructions on how to do so. Look out for the link in the "Welcome to Discourse Blog" email you'll get after you sign up, or click here to go directly to our subscriber-only post with all the instructions.
See you tonight!